Rob Kardashian Reportedly Hired Security To Protect Himself From Blac Chyna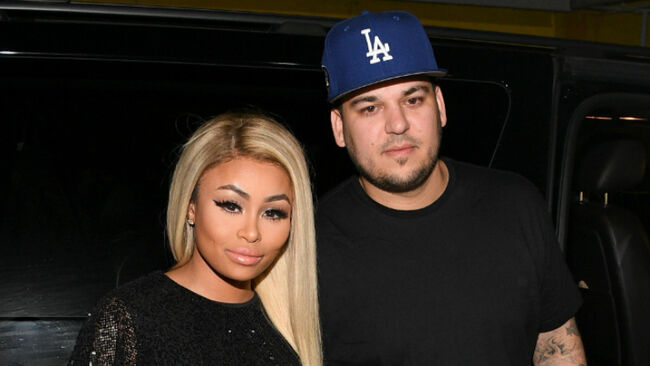 Rob Kardashian was not taking any chances after his July 2017 split from Blac Chyna.
The former reality star was reportedly so afraid of what his ex-fiancee might do to him around the time of their break-up, he hired multiple security guards to protect himself. According to new court documents, obtained by The Blast, Rob spent thousands of dollars on security guards following a "violent attack" by his daughter's mother back in December 2016. In the documents, which were submitted as part of his ongoing lawsuit against Chyna (Rob claims Chyna destroyed his property and attacked him after consuming "a significant amount of drugs and alcohol," which Chyna refutes), the Arthur George sock line creator says he spent upwards of $100,000 in combined damages, which includes the price of his security, caused by her alleged attack.
He claims he spent more than $17,000 to "repair/and or replace only part of the property" Chyna allegedly destroyed, despite her claiming the damage cost no more than $5,000. The court documents also state that Rob "also incurred substantial costs in changing locks and hiring security to deter additional violent attacks on his person and property." Adding, the $100,000 bill additionally includes "$12,695.47 to replace drywall, patch holes and repaint walls and $3,119.01 to replace the television [Angela Renée Whitee, Chyna's birth name] destroyed."
Most recently, Rob shaded Chyna on Instagram, after siding with her nemesis Alexis Skyy, less than 48 hours after the ladies got into a physical altercation at a Los Angeles party on Saturday (January 12). First, Rob declared on Instagram that Alexis was his "WCW" (to note, it was a Monday when he posted that), adding, "I've been wanting you for so long." He then took his shade one step further sharing photos and videos of Alexis making him dinner at what appeared to be Kris Jenner's home. However, after fans blasted Rob for hanging out with Alexis to spite Chyna, he took to Twitter to defend their friendship, saying, "Me and Alexis known each other for 5 years so stop with that."
As previously reported, Chyna and Alexis got into a fight while after Chyna allegedly threw a drink on Alexis. Alexis claimed shorty after Chyna invited her into her section, "out of nowhere" she asked her to then leave. While the Love & Hip Hop star admitted she was shocked by Chyna's abrupt request, she eventually got up to leave. However, before she could exit the section, Alexis claimed Chyna threw a drink on her, which caused her to try to fight Chyna. "So at that point, she starts throwing a drink … so when you want to throw a drink, we start throwing hands," Alexis said on Instagram Live after the incident. "So from there on, whatever happened, happened...I got kicked out."
Chyna has yet to publically address the situation.
Photo: Getty Images