Young Thug Released From Jail On Bond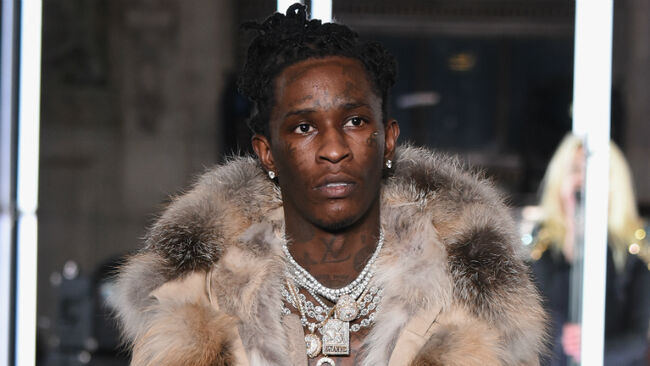 Young Thug is a free man, for now.
The "Pick Up The Phone" rapper was released from jail on bond Thursday (September 13), just two days after turning himself into the Dekalb County Sheriff's Department. YT's girlfriend, Jerrika Karlae, confirmed his release on Instagram, writing in a now-deleted post, "THE GOAT IS FREE."
Thug's surrender to police came after a judge issued a warrant for his arrest on Monday (September 10). He was charged with five felony violations of the Georgia Controlled Substance Act.
As previously reported, the "Anybody" rapper, whose real name is Jeffrey Lamar Williams, was charged with several felonies stemming from a 2017 arrest earlier this month. The charges are all related to the rapper's arrest in Georgia last September. Authorities allegedly found YT and two other men in a car with drugs and nearly $50,000 in cash, Atlanta Journal-Constitution reported at the time.
According to the police report, cops pulled over a 2016 Mercedes Benz Maybach after suspecting that its tint was too dark. They then searched the vehicle and YT and another passenger were arrested. He was charged for possession and intent to distribute hydrocodone, meth, and marijuana, and he was hit with two counts of codeine possession, Xanax, amphetamine. Thug also reportedly had an illegal firearm on him.
Before his arrest on Tuesday, Thug teased his upcoming project on Instagram. "While I'm down... 'ON THE RVN,'" he captioned a photo of a notepad that had Jaden Smith, 6lack, Elton John, T-Shyne's names written on it.
Photo: Getty Images